"If you've ever done any renovation, you know how important it is to have trusted contractors and vendors. We've used Olde Towne Window and Door for two jobs now, one rather large and one smaller job. Both times they have followed through on every aspect of the job: offering good advice, representing excellent products at fair prices, delivering on time and importantly, taking care of changes or revisions that invariably arise in renovation projects. We are thrilled with our gorgeous French doors and beautiful windows. Billy Mock has years of experience in his field. He treated us with honesty and integrity, and a real desire to see us have the right product for our taste and budget. Olde Towne Window and Door is the kind of company that one needs to get through the sometimes tough and trying experience of renovation."
"Catherine and David Jennings"
Exterior Siding
| | |
| --- | --- |
| Nothing will impact the appearance of your home more dramatically than the exterior siding you choose. Here we will cover the following topics: | |

Signs Your Siding Needs Replacement:
There are a few determining factors that will help you decide if siding replacement makes sense for your home. The following are just a few telltale signs that your siding needs replacement.

Siding is not protecting the wood sheathing.
Pieces are split, cracked or rotten.
Your siding is an eyesore.
Siding is severely faded.
Siding is difficult to keep clean and maintained.

Choosing The Right Siding:
The thought of replacing all of your existing siding with new replacement siding could be daunting and understandably so. Replacing all of the siding on your house could be extremely expensive, not to mention inconvenient.
Don't get discouraged too soon. Proper planning is the most effective way to ensure you install the right siding that complements your needs, style and budget.
Needs
There are many reasons that people choose to replace their old siding. Appearance, deterioration, maintenance, and energy efficiency are just a few. Once you decide to purchase new replacement siding for your home and determine the reason why you are replacing old siding, you automatically narrow down your search, making it easier to reach a decision. Some materials may be better for one reason, others for another.
Style
Once the budget is set, it is safe to start selecting your siding style and materials. Think about the overall style of your home. Is it Traditional, Transitional, Colonial, Cape Cod, Contemporary, Ranch or some other style? What type(s) of siding do your neighbors have? You can transform the look and style of your home with the use of two different types of siding. For Example: Vinyl Siding goes great with either Vinyl Cedar Shakes or Stone Veneer. From colors to shape to texture and materials, the possibilities are endless. Nearly all of the siding we sell is virtually maintenance free.
Budget
Determining your home's surface area and setting a budget that works for you should be your next step. Siding options are generally priced very differently, so determining the surface area of your home is a crucial step to determining your budget.

Benefits Of Maintenance Free Siding: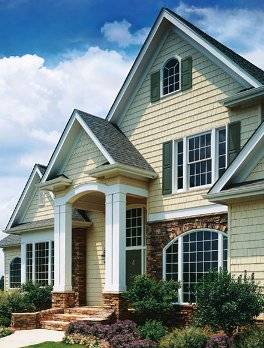 As you may have already guessed, there are extensive benefits maintenance free exterior siding; hence the words "maintenance free." Some of these benefits, however, extend beyond the more obvious ones. The following is just a quick look at many benefits that maintenance free siding offers:
Durability: One of the main reasons homeowners want to install maintenance free siding is because it is long lasting and durable. Most maintenance free siding companies offer siding that should last for a very long time. Maintenance free siding can stand up to most weather conditions without worry of severe damage. Newer maintenance free siding is even stronger than the older versions and is less likely to crack and become brittle. In addition, maintenance free siding can withstand years of sunlight without fading.
Maintenance: Maintenance free siding is easy to maintain ... duh! There is no need to ever paint the siding and it never fades from the elements. The only regular maintenance it needs is to be power washed once or twice a year. Maintenance free siding has a new look year after year. If moisture becomes an issue, you will need to re-caulk the joints between the siding and trim. Other than that, you can spend your time enjoying your home rather than working on it.
Cost Effective: Over the long term, maintenance free siding can be cost effective. Siding is much more inexpensive than repainting and repairing wood on a home. The initial cost of new siding will vary depending on the size of the home and the quality/material of the siding.
Looks: Maintenance free siding comes in many grains and colors to suit most homes. The good news about newer siding is that the color is baked through the vinyl, double baked on the Hardie plank and mixed through the Ply Gem stone. This means that the color stays true over a long period of time and will not show scratches or small imperfections.

Siding Manufacturers:
Note: Siding manufacturers listed are described using products we typically recommend to clients. Most manufacturers carry a wide array of products, but we try to chose the highest quality products with the lowest possible cost from each manufacturer. We believe this gives our clients the best bang for their buck!
Our most economical vinyl siding. One of the industry's best selections of vinyl siding styles.
Top of the line vinyl siding. Attractive products that stand up to the environment's demands.
World leader in fiber cement siding.
Cast from actual stone, Ply Gem Stone is 1/3 of the weight and 1/3-1/2 of the cost of natural stone.

Construction Materials: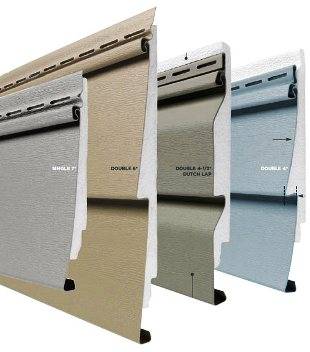 Wood: The most energy efficient; they are still the best insulation framing can offer. Wood is structural, so less is needed; which means less frame and more view. Wood doors also retain more resale value. Nothing adds as much elegance as wood.
Vinyl There's a reason vinyl siding is the most popular choice for remodeling or new construction even historic renovation. It delivers the warm, quality appearance of wood without the costly, time-consuming maintenance and repairs. Vinyl won't split, peel or rot. And because its color goes clear through the panel, it never needs to be scraped, stained or painted!
Fiber Cement: For homeowners that want the look of wood but don't want the hassles and costs associated with it, fiber-cement siding may be a satisfactory alternative. This product is available from several manufacturers in a variety of textures that are said to provide the appearance of wood. Fiber-cement siding should be more durable than wood -- it is termite-resistant, water-resistant and noncombustible.
Stone Veneer: Molded from real stones, but lighter weight, stone veneer is an affordable, easy way to add lasting curb appeal and character to your homes exterior or interior. It is an attractive alternative to solid rock and an ideal compliment to traditional siding.